In Beijing, Oppo announced its new high-end Android phone, the N1. It is world first smartphone with a rotatable camera, for high-quality selfies. And it's also the first phone to officially support CyanogenMod, after the project went commercial last week.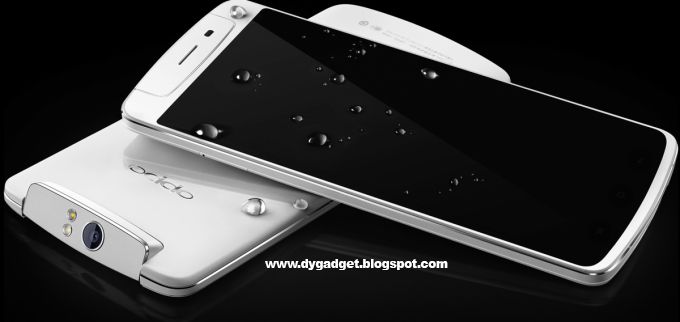 Oppo N1 Key Specification :
5.9" IPS display with 1080p resolution
1.7GHz quad core Snapdragon 600
Adreno 320
2GB RAM
16/32 GB internal memory
13mp back facing camera
3610 mAh
Android 4.2 Jelly Bean
170.7 x 82.6 x 9mm
213 grams
The back of the Oppo N1 is especially interesting. Firstly, there sits the 13MP camera with CMOS sensor and f/2.0 aperture and Oppo's specially-designed in partnership with Fujitsu IPS imaging chip. Oppo dubs the N1 as the first Android smartphone to feature 6 piece lens design. The whole camera module rotates 206 degrees allowing it to act as a front-facing camera as well. According to Oppo, the swivel mechanism of the N1's camera has been put through 100,000 times of rotating in a durability test. This means the Oppo N1's camera can be swivelled 40 times a day for 7 years and it'll be as good as new.
Below the camera, there is a touch sensitivity where feature the O-Touch and depending on the gesture that you make, the phone is can either play next song, browse the web or do a custom action. For example you can long touch the back of the phone while the camera app is on and it'll take a shot with the front facing camera. The supported gestures are long press, sliding and double tapping.
Oppo has also made a special bluetooth camera accessory dubbed O-Click. It is essentially a remote control for the camera and can operate within 50 meters away from the phone - perfect for self group shots. It's also included in the retail box of the Oppo N1.
Lastly, at the event Oppo announced their rumored partnership with Cyanogen. While no further details were given, the Oppo N1 is going to be able to run pure Android thanks to CyanogenMod. It's speculated that customers will be able to choose between Color OS and CyanogenMod upon ordering the N1 from the Oppo website.
The Oppo N1 will be priced at $571 (3498 CNY). China Mobile customers can already pre-order the Oppo N1 and expect it to arrive some time October. Oppo is yet to announce exact dates for worldwide availability.
[
SOURCE
] [
SOURCE
]