UPDATED : The New iPad is official name!
Watching Apple LIVE now for the new iPad (they even don't have name for it, lets call it The iPad now) announcement. It just a minor update in iPad 2.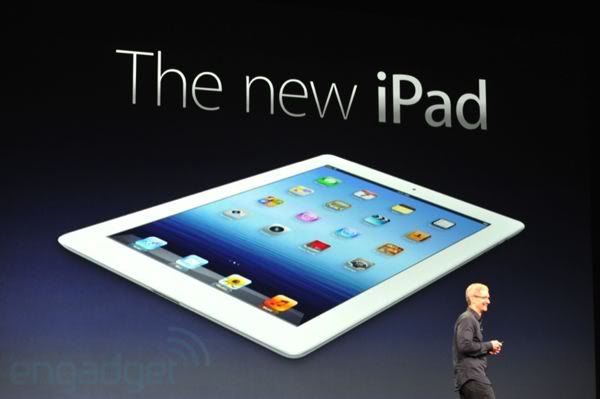 The New iPad Key Features :
9.7-inch Retina Display, 2048 x 1536 pixel with 264ppi.
A5X processor and quad-core graphics chip.
5MP Camera with 1080p HD Video Recording.
built-in 4G LTE.
9.4mm thickness.
1.4lbs.
10 hours of battery life still. 9 hours on 4G.
iOS 5.1
There are still alot uncertain spec in The iPad. What are the RAM? What are the battery capacity? What are the front camera MP? Plus, The iPad still come with physical home button. There won't be SIRI in the new iPad too.
Honestly we are pretty disappointed with The iPad. No quad core, quad graphic (which theyc laim better than Tegra 3). Same camera can be found in iPhone 4S except 5MP. There will be microphone built-in in the keyboard, Android Google Voice anyone? There will be personal hotspot available too in The iPad.
Overall, it is everything you can found in iPhone 4S into The iPad. The new iPad will be available March 16th, starting at $499 for the 16GB WiFi model and scaling up to $829 for the 64GB version with 4G. Same price with current iPad 2 and of course, iPad 2 are dropping their price. Malaysia won't be first batch to have it yet.
So, the new iPad anyone?
[
SOURCE
]