We know this day will come from Samsung. Samsung has announced the Galaxy NX: the world's first mirrorless interchangeable lens camera running the Android operating system.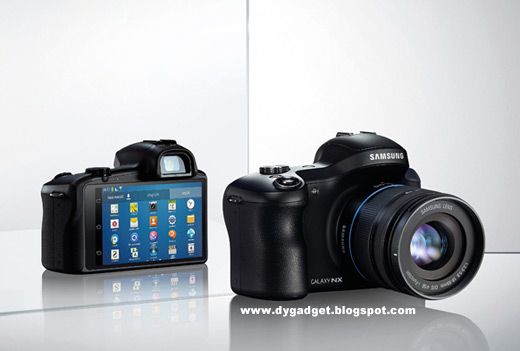 Samsung Galaxy NX Key Specification :
20.3 megapixels
APS-C (23.5 x 15.7 mm) CMOS Sensor
DRIMe IV Imaging processor
ISO 100 - 25600
Samsung NX lens mount
Electronic viewfinder with SVGA resolution (800x600px)
4.8″ fixed LCD screen
1.6GHz quad-core processor
2GB RAM
16GB internal memory with expandable microSD
3G, 4G LTE and Wi-Fi
4,360mAh battery
Android 4.2 Jelly Bean
Pricing and availability still unknown but we wouldn't be surprise if it cost more than RM 3,000 and above.
My Opinion :
Samsung has overtake apple in terms of smartphone. But how about camera segment? Samsung is trying to be difference from other competitor now in terms of mirrorless camera. Yes, they are not the first one using android OS powered camera but at least, their's not half baked. Now my main concern will be how's Android system handling the camera performance? Is the auto focus fast enough? Is the battery life good enough for me to use for whole day shooting? Will the camera have sudden OS crash? It is interesting concept but I am not convincing enough if the three question I asked doesnt satisfy me. Of course image quality is another section to argue. Meanwhile, I still prefer stick to a proper camera.
[
SOURCE
]